If you have an E-commerce business, finding the right digital marketing agency is crucial for your success. Though giants like Amazon, Alibaba, and eBay are prominent names in the e-commerce industry, new e-commerce ventures are growing steadily in number, making it an extremely competitive space.
Therefore, having a strong online presence is vital for e-commerce businesses. With numerous Digital Marketing agencies in the market, finding the one that truly aligns with your goals and objectives is tedious. 
In this blog, we will guide you through the essential steps to pick the perfect e-commerce Digital Marketing Agency that will help your business thrive. So, let's dive in!
Current Trends in E-commerce 
To ensure your chosen agency stays ahead of the competition, look for agencies that embrace the latest trends in e-commerce listed below. 
Social Commerce: Social Media is the new market, wherein many businesses use social media platforms like Facebook and Instagram to sell products. You can reach more people and make personal connections with customers by using effective digital marketing techniques.
Personalized Marketing: This helps you offer unique experiences to each of your customers. Using data analytics, you can send personalized emails and social media messages that make customers feel special and understood.
Content Marketing: Want to be an industry expert? Share valuable content like blogs and webinars with your audience. This way, you can showcase your knowledge and connect with your customers.
Paid Advertising: Paid ads, like Pay-Per-Click and retargeting ads, can bring specific customers to your websites and remind potential buyers about your products.
SEO for E-Commerce: Make your website more visible by optimizing it for mobile, voice, and visual searches. It helps attract more people to your online store.
Artificial Intelligence (AI): AI can help create personalized product suggestions for customers using their data and history and provide instant customer support through chatbots.
Marketing Automation: Time to let technology do the work! There are tools that enable businesses to automate tasks, deliver personalized experiences, and measure results, leading to improved marketing strategies.
Steps to Identify the Right Digital Marketing Agency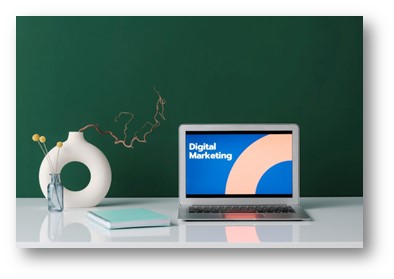 Step 1: Define Your Goals and Objectives.
Define what you want to achieve with your e-commerce business—increased website traffic, lead generation, sales growth, or all of the above. It will guide you in selecting an agency that specializes in the areas you need the most assistance.
Step 2: Do Some Research. 
Now that you know your goals, it's time to do some research. Look for digital marketing agencies with experience working with e-commerce businesses. Read online reviews, testimonials, and case studies to get insights into their past performance.
Step 3: Meet with Potential Agencies.
Schedule meetings with potential agencies. Speaking to their teams will help you gauge their expertise, communication skills, and business approach. 
Here are some questions to help you take the conversation in the right direction.
Tell us about your experience in handling similar projects. 
What strategies would you employ for our specific goals? 
How would you measure the success of the campaigns? 
Step 4: Ensure a Suitable Budget:
Digital Marketing services can be a significant investment, so find an agency that fits your budget. Discuss their pricing structure and the services included in their packages. A transparent pricing agreement will help you avoid financial surprises and plan your budget accordingly.
Conclusion:
Choosing the right E-commerce Digital Marketing Agency can significantly impact your business's growth. By defining your goals, conducting thorough research, meeting potential agencies, and aligning with your budget, you can find the perfect agency to fuel your online success. 
MetroMax Solutions – Speak to Our Expert Today!
Book your FREE Consultation with our Digital Marketing expert to boost your online presence.